Today, I have compiled a list of my favorite blogs. They are all DIY type blogs that are wonderful sources for inspiration!
I hope you have a chance to check them out, I don't think that you will be disappointed.
First up…
Young House Love is a blog written by a super energetic couple, John and Sherry.
They are completely down to earth and actually blog for a living. Now, who doesn't want that job?! Me, please! I guess it also helps me to relate to them because their daughter is also named Clara.
In a recent post, they featured this play kitchen that they made from scratch for their daughter. It's so cool, I would love to make one for our girls too!
They also have a great section on their site devoted to blogging FAQs that have helped us out a ton on our own blog. Go here to see those.

 Better After is all about the best part of a DIY (or non-DIY) project. The before and after pictures! Wonderful inspirations for projects are featured here and link back to other blogs that provide great tips on the projects that have been created.
My dream closet was recently featured on Better After, originally from Sawdust and Paper Scraps,  and is probably not something that I would have found out there in blog world on my own.
I don't think I even would have cared what the before looked like. That is one amazing closet!
Make It and Love It definitely had to make it on the list of favorites. I must have every project pinned on Pinterest. This is a must read if you ever have any interest in sewing. And with all of the great tutorials available for re-purposing items, you will probably want to start sewing, even if you had no previous interest. This blog also has great tips and tricks on many sewing topics.
I have linked back to Make It and Love It before, but here is just another glimpse at a great refashioning tutorial:
Once I get brushed up on my sewing skills, both of our girls are getting one of these!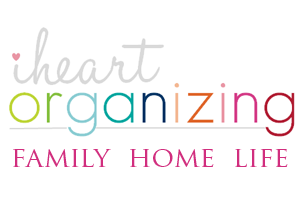 IHeart Organizing  is one of my new found favorites, but I love it! As you might be able to tell from the name, this blog has amazing organizing tips. If you have problems organizing anything in your home, you can probably find a solution over here! And not only are things organized, but they look fantastic too.
Have you ever wondered what you should do with all of the miscellaneous winter accessories that tend to get strewn about your house? Mittens, hats and scarfs end up everywhere at ours. So how about a wire basket hung on the wall near the entryway? Genious!

Chic & Cheap features the cutest nurseries and children's room ever! I wish I had taken the time to decorate our kids nurseries like some of the ones featured here!
How adorable is that? I absolutely love chevron anything, but pair it with the yellow and gray color combo and I REALLY love it! See the whole nursery.
I hope you enjoy at least one of these blogs as much as I do!