One of the first rooms that I would like to tackle as part of my "Get Organized" goal for 2013 is the kitchen. I wouldn't say that the kitchen is all that bad, but there are definitely specific areas that need some help. Today I'm going to highlight a few of those pesky problem areas and share some inspiration for possible solutions!
- Click the images to see the source. -
1. Water Bottles – We buy bottles of water by the case at Sam's. (And before you judge about all of the plastic that we must go through, no worries, we do recycle.) The current area where we store our water can look like a total disaster zone. We bring in the case of water and simply just slide it under the butcher block. It works great until you tear into the case an it looks like a wild, plastic-y mess under there.
Possible Solution?
We actually have these exact same baskets already! Although, I 'm thinking rather than using these types of baskets for recycling, maybe we'll use a milk crate instead. I never thought of using crates under the butcher block to organize stuff before. It's brilliant!
2. Spices – How is it that I can never find what I'm looking for in the spice cabinet? Ever?!
This has to change, and here's what I'm thinking: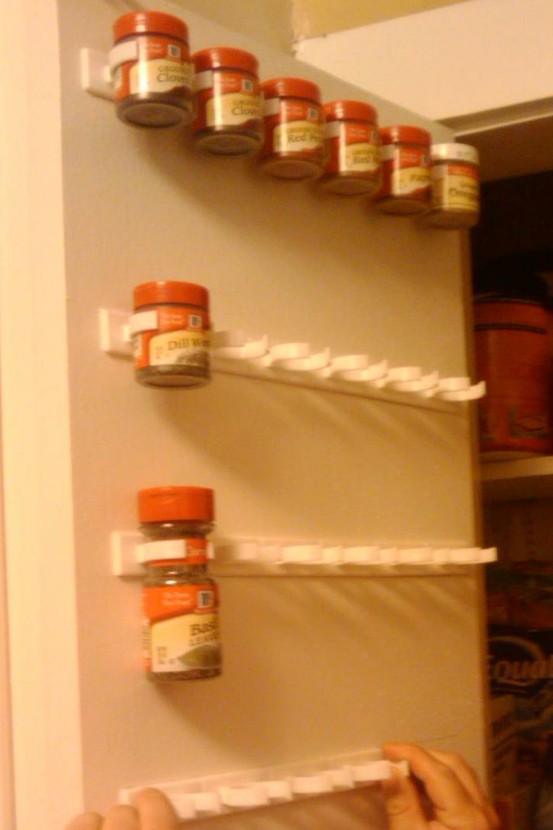 Use the inside of a cabinet to hold your spices. Again, this isn't a space that even considered utilizing. This is something that I must do!!
3. The Fridge – I'm sure almost everyone has this problem. If you have kids, it seems to get worse. Little yogurt cups and juice boxes manage to clutter the entire fridge.
Not with these bad boys!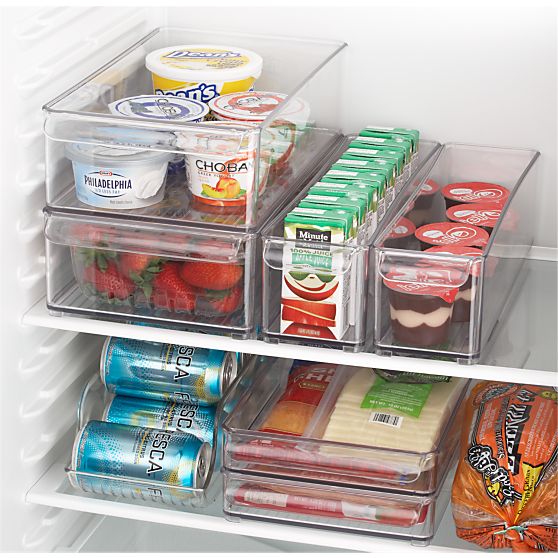 Um, would it be weird to ask for these for my birthday? I love them!
4. Under the Sink – It looks like a tornado ripped through the very tiny space below our kitchen sink. It's bad. Real bad.
This image is from one of my all time favorite blogs; I Heart Organizing. Is it possible that someone actually made this space look, dare I say, pretty? Compare to mine, it's gorgeous. Those clear storage bins to group like items is a fantastic idea in such a small space.
5.  Cookie Sheets/Muffin Tins/Pizza Pans- Though they never looked truly unorganized, it's always a pain in the rear to dig out what your looking for. And the clatter that it makes doing so? Ugh, it's almost enough to give me a migraine and call it quits for the day.
Is it really as simple as creating dividers with cheapo tension rods? how is it that no one ever told me about this? This is definitely worth a try!
.
Thanks for stopping by today. Does anyone have tips that they would like to share on kitchen organization? Leave a comment and let me know! We love comments!!
.
.